xen0fiendz
---
Welcome to my commissions page! Here you'll find my gallery and prices. If you have any questions or you'd like to order a commission, email me!
[email protected]

TOS.
Commissions
Gallery
© Untitled. All rights reserved.
Commissions Gallery
Heya! Want a commission done? I offer great quality art for reasonable prices. All pricing is in USD and payable only through PayPal.

Please keep in mind all prices are 'base price' and may change depending on character detail.
Check out my ToS for more info on my prices and process. ToS

To order click on the 'mail' icon at the top or email: [email protected] (that's a zero not an O.)
xen0fiendz
ToS:

I reserve the right to decline/reject any commissions request, without reason.

Payment:
Prices only in USD.Payments made via invoice through PayPal.No Partial Payments.Payments must be paid before the artwork is started.
Refunds:
Refunds or Cancelations are not accepted once the art work is started.No refunds if you do not 'like' the finished product.If the commission cannot be completed, a full refund will be issued.
Workhours, Time & Que:
I only work on commissions and answer emails Mon - Fri.I do not work Sat - Sun or on stat holidays.Please allow for 3 weeks after payment is complete for the commission to be finished.
Rights & Watermark:
I reserve the rights to the artwork.You cannot claim the artwork as your own.Do NOT remove the watermark from the art work.You may post / repost your own commission so long as you give me credit.Do not repost artwork that is not a commission you paid for.I reserve the rights to post the artwork to my own social media platforms.
If you've read the ToS, title your commission email as 'Commission_(YourName)'.
ART COMMISSIONS
USD Only - PayPal Only - No Partial Payments - SFW | NSFW
| BASE PRICES | Bust | Half Body | Fullbody |
| --- | --- | --- | --- |
| Clean Lines | $25.00 | $35.00 | $40.00 |
| Flat Colour | $35.00 | $45.00 | $50.00 |
| Rendered | $50.00 | $70.00 | $80.00 |
Prices are rough estimates of what you can expect in the pricing range. If you're unsure, it's better to ask me. I can give you a better estimate if you send me the details of the character and what you're looking for.

Additional Character: Priced Individually at full price.

Design Aspects: If you don't have photo reference I can design what you want for an additional cost. The more complex something is, the higher the price.

Piece of Gear: $15 - $40
Outfit: $50 - $100+
Character Design: $200+ (Varies, please contact me with your idea from a proper estimate.)

WILL DRAW
NSFW / Sex / Nudity / Blood / Gore / ViolenceAll genders, sexualities and identities.Mecha, Furries, Animals, Most Species / Fantasy RacesOfficial Characters, Original CharactersBackgroundsAdditional Characters, Groups
WILL NOT DRAW
Without reference images.Underage Characters, or characters that look under age, in nsfw/gore/sexual themes.Non-Con, Incest, Bestiality/Feral, Water-Sports / Scat, Inflation, Pregnancy, Excessively Overweight / Underweight or Hyper Proportions.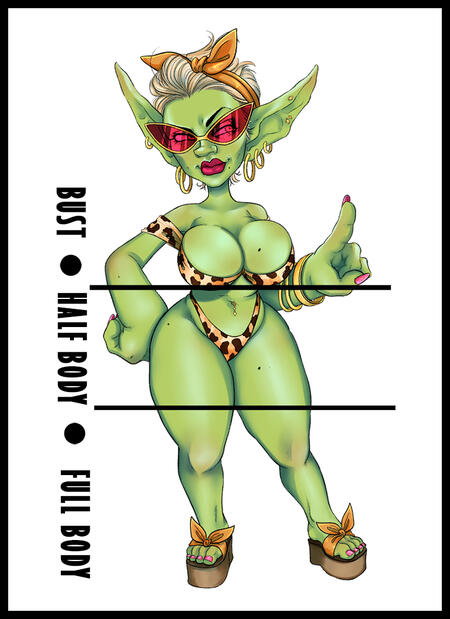 Finished commissions
Finished NSFW commissions